AbbVie (ABBV) is one of my favorite defensive dividend aristocrats right now and here's why.
Bullish Thesis
AbbVie's Allergan acquisition is now closed and the result is not just one of the fastest-growing drug makers in America, but one of the best-growing companies of 2020.
2020 analyst EPS growth consensus: +16%
2021 analyst consensus: +15%
2022 consensus: +12%
Even factoring in the loss of Humira exclusivity in 2023, Reuters reports that the eight analyst long-term growth consensus is 10.3% CAGR.
For context, 6.4% CAGR is what the S&P 500's earnings are likely to grow at in the coming years.
In other words
2.5%X the safe yield of the S&P 500
about 66% faster growth
34% undervalued vs 23% to 50% overvalued for the S&P 500
Risks To Consider
Similar to other drug firms, AbbVie faces the risks of new drug failures, reimbursement challenges for new drugs, and drug pricing cuts by large payer groups that are growing increasingly price-sensitive. Further, AbbVie's high concentration of Humira sales makes the company significantly exposed to any new competitive threats to Humira, both from biosimilars and new branded drug competition.

Also, AbbVie has taken on significant debt to purchase Allergan, but we expect robust cash flows will help manage the heavy debt load. Overall, we view the firm at a medium uncertainty level." – Morningstar
Valuation/Total Return Profile
2020 average historic fair value: $142
current price: $96
discount: 32%
potential good buy price: $121
Dividend Kings rating: potentially strong buy
ABBV 2025 Consensus Return Potential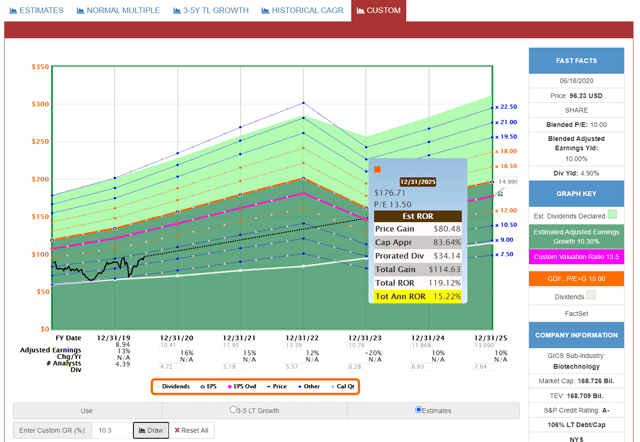 (Source: F.A.S.T Graphs, FactSet Research)
ABBV 2022 Consensus Return Potential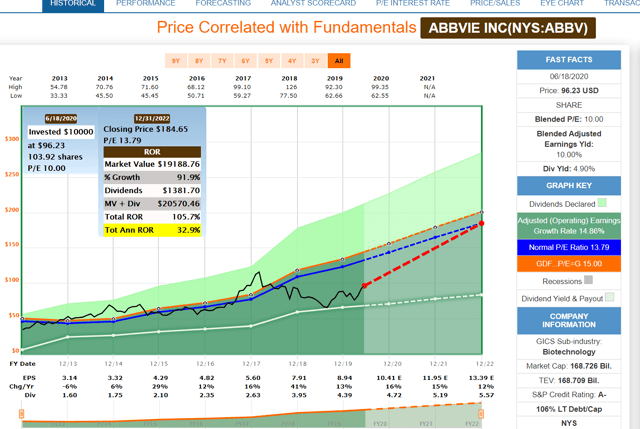 (Source: F.A.S.T Graphs, FactSet Research)
These are the kinds of returns ABBV could generate if it grows as expected and returns to historical fair value. How likely is ABBV to grow as analysts expect?
Continue Reading at Dividend Sensei