Apogee Enterprises (APOG) is one of my favorite deep value blue-chips because it combines a relatively attractive yield, with high safety, and some of the best long-term growth potential on Wall Street.
All in a package so undervalued that it could potentially quadruple your investment over the next five years merely growing as expected and returning to fair value.
That's why Dividend Kings' Phoenix portfolio has now bought it four times, meaning a full position for us (my retirement portfolio owns it as well).
Bullish Thesis
Apogee's expected to have a bad year, which isn't a surprise given that it's a construction material company that makes window framing systems.
Fiscal 2021 analyst consensus (this year): -13% (-22% for S&P 500)
2022 consensus: +25%
However, next year is expected to see a strong return to growth, not just due to the economic rebound, but also the turnaround plan that management has been executing well and that analysts expect to drive significantly higher margins in the future.
How much higher? Its long-term growth consensus is 15% CAGR or about two to 2.5 times the growth consensus for the S&P 500.
To sum up:
3.3% very safe yield vs 1.9% S&P 500 (and 2% to 2.5% most dividend growth ETFs)
15% CAGR long-term growth consensus vs 6.4% for the S&P 500 and 5% to 7% most dividend growth ETFs
55% undervaluation vs 24% to 50% overvaluation for S&P 500
Risks To Consider
the turnaround might still potentially fail (20% to 40% of the time analysts are wrong about a company's long-term growth prospects)
The second wave expected in the fall could trigger a W shaped double-dip recession that might result in medium-term growth missing expectations.
this is a cyclical business whose economic sensitivity means that it often misses 1 and 2-year forecasts.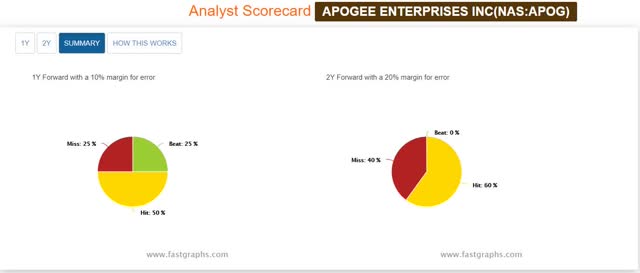 APOG is one of the most volatile companies on Wall Street, meaning that it should only be owned as a small part (2.5% or less) of a well-diversified and prudently risk-managed portfolio.
Continue Reading at Dividend Sensei