In part 1 of this series, I explained why the stock market rally was looking more and more like a dangerous and completely irrational bubble.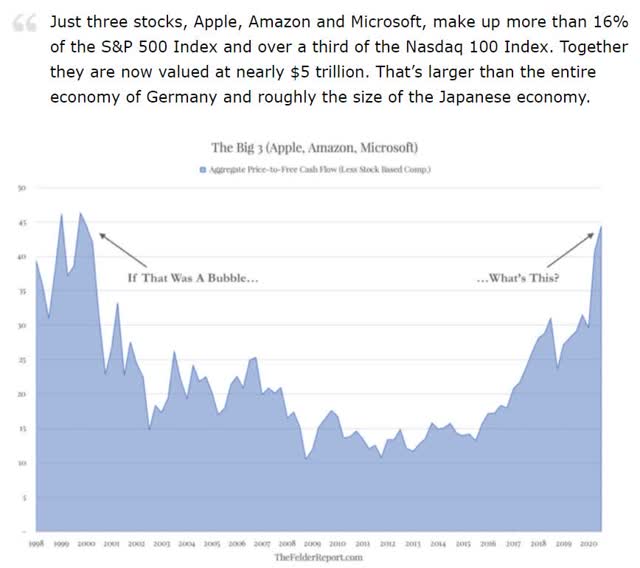 (Source: Jeff Miller)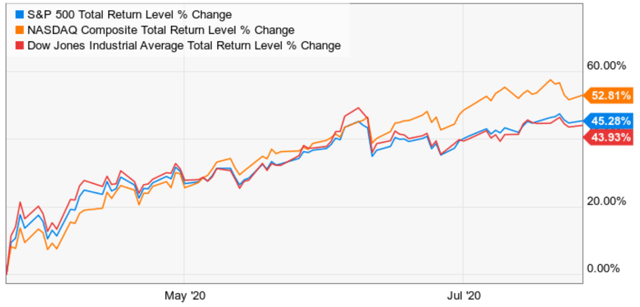 (Source: Ycharts)
The S&P 500, Dow Jones Industrial Average, and Tech-focused Nasdaq, have seen remarkable gains since March's lows predicated on the assumption that the pandemic would quickly be placed in the rearview mirror, or at least its most severe economic effects would.
That article walked readers through the saddening objective reality of an economy that is shattered at the microlevel, meaning households and small businesses are facing their worst fundamental conditions since the Great Depression.
Well, things might get a lot worse before they get better, because of the most important economic news in months, that's coming in the next two weeks.
Congress Could Decide How Strong This Recovery Will Be By August 7th…And The Preliminary News Isn't Promising
Right now Congress is debating the so-called "phase 4 stimulus" bill and the risks to the microeconomic fundamentals of tens of millions are incredibly high.
Within the trillion-dollar package, there are certain things that have a timeframe that are a bigger priority, so we could look at doing an entire deal, we could look at doing parts," Mnuchin said… He also suggested that some thornier issues could be kicked down the road to a Phase 5 or 6 bill." – Fox Business
According to Treasury Secretary Mnuchin, the new supplemental weekly amount will be designed to replace 70% of pre-recession income.
We're not going to pay people more money to stay at home than work, but we want to make sure that the people out there that can't find jobs do get a reasonable wage replacement," he told CNBC. "So it will be based on approximately 70% wage replacement."

That would equate to about $200 a week, said Ernie Tedeschi, an economist at Evercore ISI." – CNN
The CARES act passed in March, provided $600 per week in supplemental unemployment income, on top of what states were already providing.
Continue Reading at Dividend Sensei