In part one of this article, I explained three potential risk catalysts that could turn this perfectly normal and healthy market pullback into a perfectly normal and typical correction.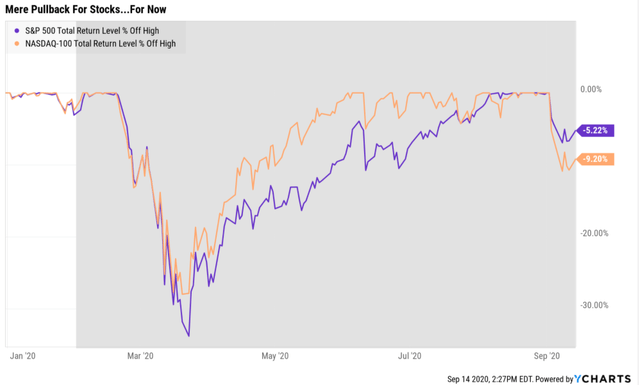 For now, the S&P 500 and Nasdaq are merely in a pullback, not even a correction.
So how can I possibly be worried about something that's never happened before in the history of the stock market? Two bear markets in the same year?
Well, for one thing, I NEVER worry about bear markets, no matter how severe or closely spaced together they might be.
So let me first explain the final piece of the puzzle, about how a perfect storm might turn a normal pullback into a correction, into an unprecedented bear market.
More importantly, I'll then explain how to protect your retirement portfolio from such a perfect storm, so that you never lose a wink of sleep, no matter how crazy the stock market might get in the coming weeks or months.
$400 Billion In Dumb Money: The Final Ingredient To Our Perfect Storm Bear Market Scenario
I should point out that I'm hardly the only analyst warning about a possible bear market.
Here's what Tim Hayes, senior investment strategist at Ned Davis Research recently told Business Insider.
I would expect a decline of 15-20% and then we get a rally that maybe leaves us back where we are around now. That would be my best expectation." – Business Insider
JPMorgan's economic team, one of the 16 most accurate tracked by MarketWatch, also considers a 22% bear market a potential scenario that investors need to be prepared for.
While JPMorgan's bear market scenario is based on a second wave of the virus triggering a mild double-dip recession (which is a 25% probability according to them and 80% of economists) we actually don't need a recession to trigger an unprecedented second bear market in a single year.
That's because of what JPMorgan's Marko Kolanovic, head of macro quantitative and derivatives research at the bank, wrote in a note to clients a few weeks back.
"Quantitative hedge funds — including volatility targeting and risk parity funds — slashed exposure to the stock market earlier in 2020 as virus risks raged. The trading algorithms commonly used by such firms target specific gauges to decide when capital should be pulled from or added to stocks.

If the volatility-tracking VIX index falls below 30 though the summer, the firms' programs are set to push hundreds of billions of dollars back into the stock market, Kolanovic said.

"For these investors to reach their historical median equity exposure, they would need to add ~$400 billion of equity exposure, which can easily push the broad market to new highs," he wrote." – Business Insider
For several months now, quant-algo driven hedge funds, specifically risk-parity "smart beta" funds, have been plowing money into broader market indexes, including the largest tech giants.
Not because of any fundamental reason, but purely because realized volatility (not the VIX which is implied volatility) fell to 10 on September 2nds record high.
According to Refinitiv economist Roger Hurst, the recent market pullback caused actual volatility to rise to 17.
If volatility were to rise to 30 or higher, then the $400 or so billion in risk-parity fund flows could start to reverse.
But if volatility is only 17 and the algo-driven cutoff for blindly dumping the broader market indexes is 30 then why should investors potentially be worried?
Continue Reading at Dividend Sensei