It's been a wild year for stocks, to say the least.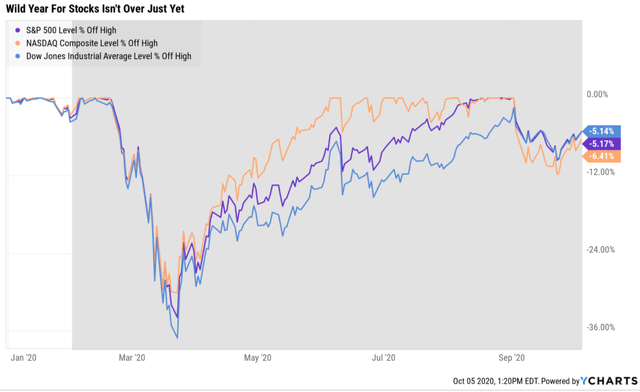 The S&P 500 suffered its fastest bear market in history back in March, plunging 36% in just four weeks. For context, the average bear market since 1945 is a 33% decline in stocks…but it usually takes 13 months for the market to reach its lows. The Dow Jones Industrial Average, normally a less volatile popular index, plunged almost 40% due to big pandemic affected names like Boeing. The recent pullback, which saw the Nasdaq tie its previous record for the fastest correction in history (just three days), looked like it might have been ending. And then President Trump tweeted that he and his wife had coronavirus and 10 people in the administration tested postive within a few days of each other.
Stocks reacted by falling 1% on Friday, October 2nd. That might not seem like much but keep in mind that it represents the market effectively pricing in a 10% decline in 2020 earnings according to Ben Carlson. We still have a month to go before the election and a lot of surprised may be in store for us, including the possibility of a contested convention that President Trump says he expects to wind up being decided by the Supreme Court. Never has the outcome of an election mattered as much to the stock market's short-term health, but not in the way you might expect.
Here's Whose Winning The Race Right Now
While Biden's lead in the national and state polls has remained relatively stable for months, with less than a month until election day (and millions of people already having voted by mail) every day that Trump doesn't tighten the race increases the probability that he will lose.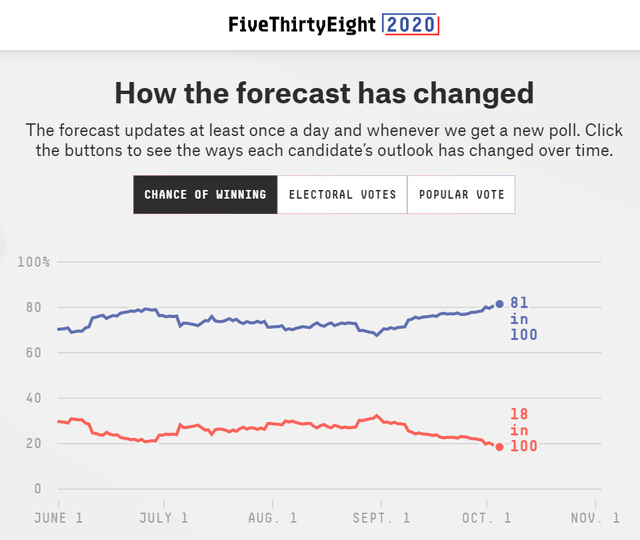 According to Nate Silver of FiveThirtyEight, if Biden maintains his current polling leads then his probability of victory on election day would be approximately 91%. However, more crucial to the economy, and thus the stock market in 2021 and beyond, is who controls the Senate. After all, politicians make wild promises about what they'll deliver if elected but without control of Congress, nothing major can actually get done. Democrats are expected to slightly increase their lead in the House, meaning that control of the Senate will decide whether or not we have divided government for the next two years.
Continue Reading at Dividend Sensei