I think we can all agree that we are living through a perfect storm of uncertainty right now:
The most dramatic election in modern history is still undecided.
Control of Congress won't be decided until January 5.
The worst pandemic in over 100 years continues to get worse by the day.
Stimulus gridlock may not be broken for several months.
The economic recovery is starting to falter.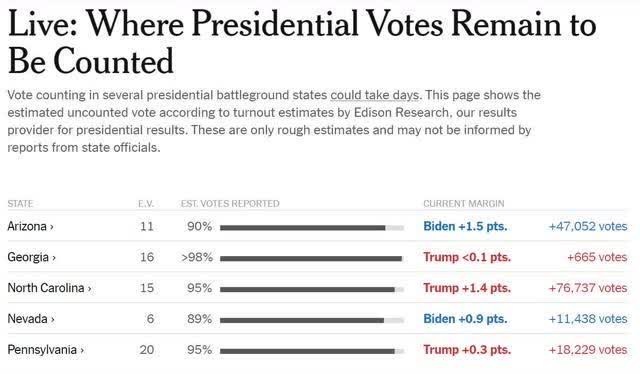 (Source: NYT) as of 3:36 AM EST, Friday, November 6th
In some elections, a single tipping-point state decides who becomes president. In this election, we have five such states and the margins are within 1.5% in all of them. President Trump has vowed to recount all states where the margin is 1% or less (the legal requirement). Recounts can take up to two weeks just to begin and usually take about one week to complete.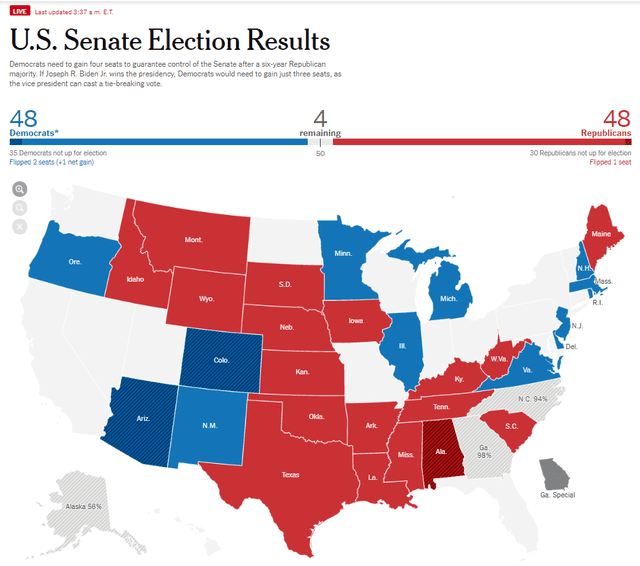 (Source: NYT) as of 3:37 AM EST, Friday, November 6th
The Senate is currently tied with four races left outstanding. While there's a good chance that the GOP will keep control of the Senate, control of that chamber is likely to be decided by the two Georgia senate runoffs on January 5.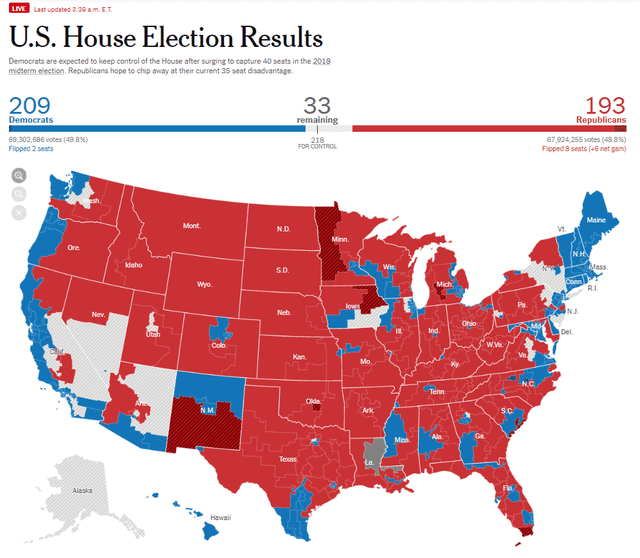 (Source: NYT) as of 3:39 AM EST, Friday, November 6th
While the AP and ABC News have declared the Democrats will retain control of the House, the Republicans have so far flipped six House seats and the New York Times has yet to call control of that chamber. Then again, Democrats were expected to gain six to 12 seats in the House, so the GOP has outperformed the polls. It normally takes several weeks for all the votes to be counted in a presidential election, and that's proving to be the case this time. A record 160 million Americans are estimated to have voted, 66.6% of eligible voters – the highest turnout since 1900. Meanwhile, the most severe pandemic in over 100 years continues to get worse by the day, just as health experts have been warning was likely to happen.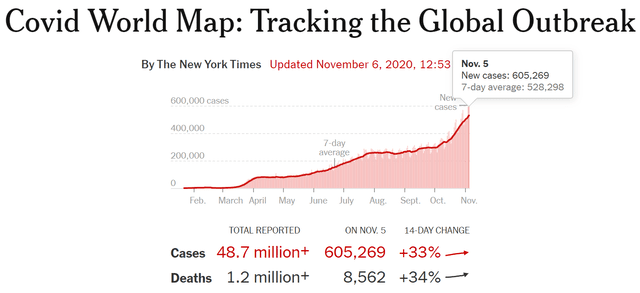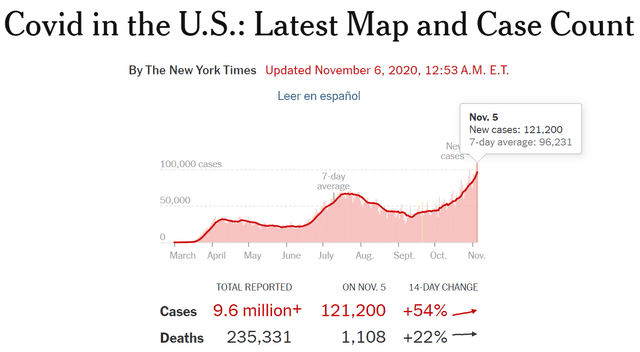 Globally, the virus is rampaging unchecked in many countries, including Europe, where 11 countries and counting are reimposing lockdowns.
In the U.S., 41 states report uncontrolled spread, and 50 out of 51 states and D.C. have transmission rates above 1.0, meaning new cases are likely to keep accelerating.
Continue Reading at Dividend Sensei