By Ben Carlson
After what the stock market went through in March, it feels like we've all been given a mulligan.
Losses have been erased. Stocks are rocking back to all-time highs.
This is a crude example, but if you started out the year with a $1 million portfolio invested exclusively in the U.S. stock market, your balance would have fallen to less than $700,000 by March 23, 2020. As of the close on Friday your portfolio would now be worth close to $1.2 million.
This type of volatility is one of the main reasons you can earn a premium in the stock market over "safer" assets such as bonds and cash.
But this volatility can also become a cause for concern among many investors who have a sizable nest egg. It's never easy to experience portfolio drawdowns but when your portfolio balance is higher, seeing the actual dollar amounts evaporate, even when they don't last, can be too much for some investors to stomach.
This is especially true for retirees or those approaching retirement age.
I've had a handful of conversations in recent months with investors in this stage of their lifecycle who are considering using this mulligan to reposition their portfolio. Many have come to the conclusion that they now have enough money in their portfolio to survive. They've already won and simply don't want to screw things up or see their money fluctuate so much.
This is true even for those investors who aren't fully invested in stocks but even have a more conservative portfolio in the 50/50 or 60/40 range. While the S&P 500 fell roughly 34% by late- March, a 60/40 portfolio was down more than 20%.
Some people have the risk appetite to handle those types of losses. Others don't.
What if you don't have the need or desire to grow your wealth any longer by having your portfolio dominated by the stock market?
There is no perfect portfolio no matter what stage you're in. But this situation is especially precarious for those who are more worried about capital preservation than the growth of their money because interest rates are so low at the moment.
Let's look at some candidates for a shift to a more conservative portfolio along with some of the pros and cons for each:
Bonds. Bonds can still have a place in your portfolio but don't expect to earn much in the form of yield at the moment. The Vanguard Total Bond Market Index Fund currently yields around 1.15%. After inflation, you're not left with much in the form of returns here.
You can go out further on the risk curve to earn higher yields but it will cost you in the form of larger drawdowns and higher volatility.
For example, if you can't handle the volatility of the stock market, long-term bonds are probably not going to make you feel much more comfortable sleeping at night. Look at the drawdowns in long-term government bonds (TLT) in recent years: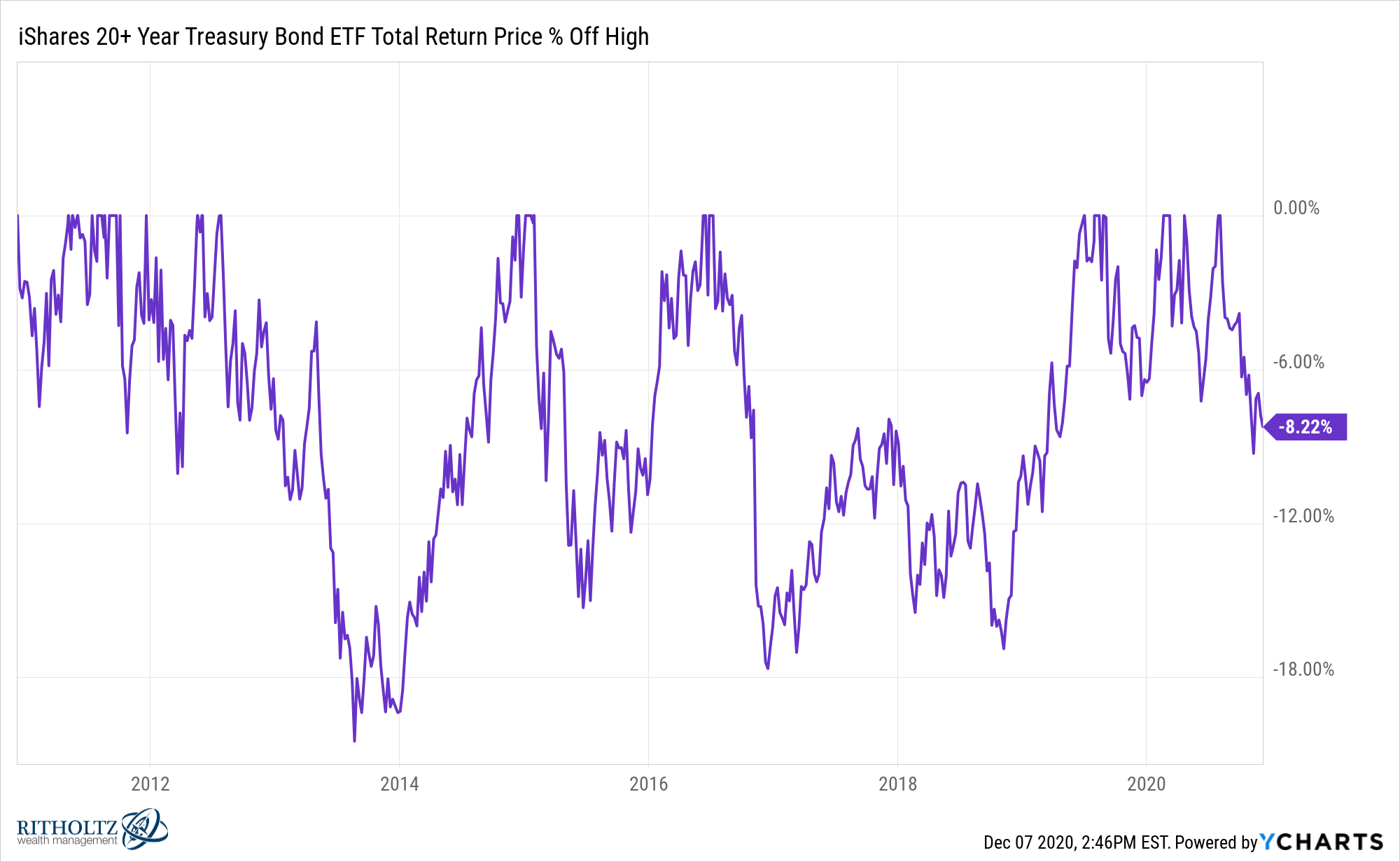 There are multiple double-digit drawdowns and this is during a period where rates have generally fallen. Can you imagine how much worse things could get if/when rates actually rise for a sustainable period?
So if you want more stability it makes sense to keep your duration short in terms of owning bonds.
Continue Reading at Dividend Sensei