In part one of this series, I explained how rising inflation concerns have sent interest rates rocking higher, and causing some former Wall Street darlings to start declining at an accelerating rate.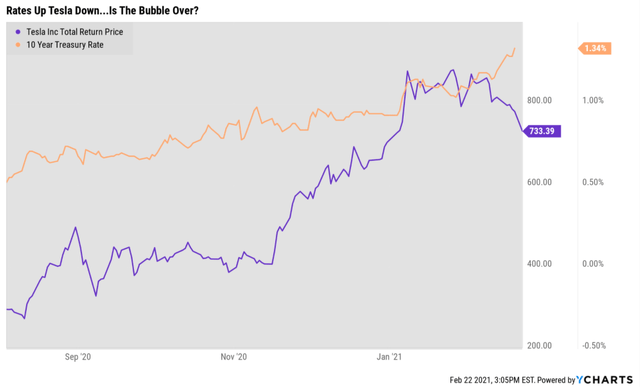 As I write this on February 22nd, the S&P 500 is down for a 5th straight day.
Tesla fell 4% last week and is down 5% today alone. Apple, and many other popular tech stocks, are suddenly deeply out of favor, as sentiment turns from greed to fear.
But guess what, it's simply not true that investors need to fear rising rates. Only speculators do.
Fact 3: Prudent Long-Term Investors Need Never Worry About Inflation And Interest Rates 
The reason it's so dangerous to talk about stocks as "bond alternatives" is that bonds, other than producing income, are nothing like stocks.
bond values are 100% a function of interest rates
set by the bond market based on long-term inflation expectations
a thriving economy can indeed be bad for bonds
In contrast, a roaring economy is seldom bad for stocks.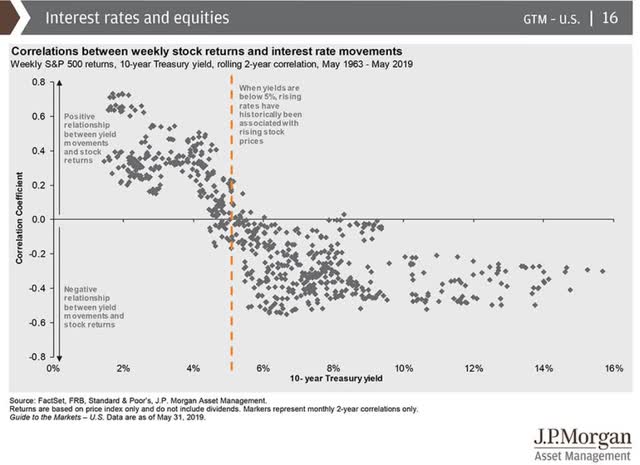 As long as 10-year yields are under 5%, historically rising interest rates are GOOD for stocks, not bad.
As long as interest rates don't rise too quickly (Goldman estimates 37 bp per month) rising rates are good for stocks.
Continue Reading at Dividend Sensei